There are many space-saving techniques and ideas that you can try out in your home, especially if you are cramped for space. With that, here's a list of the top 50 space-saving ideas that will definitely come in handy for anyone looking to clear up some space in any place applicable.
---
1. Flying Tables
JCPCDR Architecture agency invented a table that rises and falls from the ceiling using a mechanism that looks like seat belts to save space. It is made out of oak, and it can be left suspended by the straps to suit the height of the user, or lowered to the floor and stood on its four legs, which fold out from underneath. When the table is brought to the floor, the straps can be detached and retracted back to the ceiling until they are needed again.
This table is ideal for people that use their dining rooms for different purposes or do not have a dining room at all.
---
2. Furniture Islands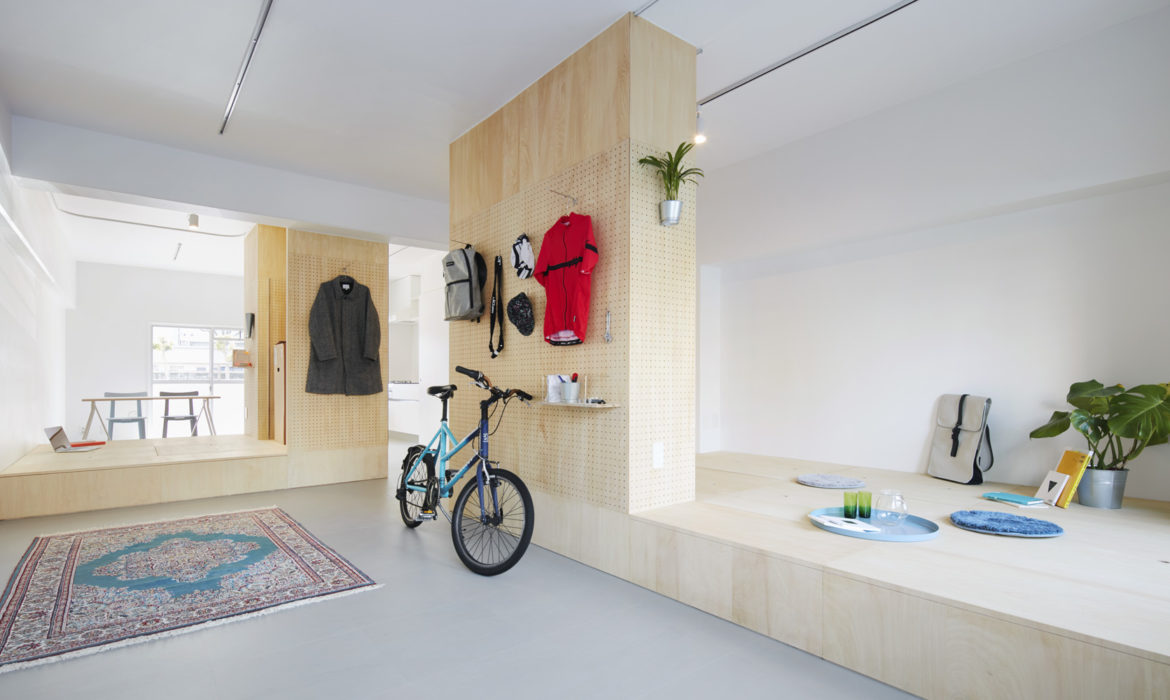 Nmstudio Architects created a multifunctional furniture unit with raised plywood floors and pegboard walls to allow residents to customize their apartments. The studios' concept is based around a large piece of multifunctional, space-saving furniture that will enable you to create your own room layout, regardless of the size and shape of your apartment. "The purpose of this project was to gather a wide range of residents in this old housing complex…" Nmstudio Architects explained.
---
3. Indoor Gardens
The Spanish-German firm YLAB Arquitectos has transformed a gloomy Barcelona apartment into a light-filled holiday home with plenty of hidden storage. They turned it into a one-bedroom property that takes advantage of the building's sunny inner courtyard. Sandwiched between a row of internal and external double windows, the conservatory is used as a garden room with two large sandstone planters that match the flooring mounted at either end. In the center of the apartment, the layout revolves around an open-plan L-shaped space that connects to the gallery-garden benefitting from the daylight that filters through the glazing from the inner courtyard beyond. The L-shaped space houses a living room area as well as a kitchen and office in the oak cabinets that line the perimeter.
These types of homes are an absolute innovation, They provide you with the capacity to take advantage of your space as much as possible.
---
4. TINY HOME BEDS
And talking about taking advantage of your space. Yesul Jang, an ECAL graduate has designed a storage bed for "compact living". This bed is perfect for millennials with limited space in urban dwellings. Named Tiny Home Bed, the furniture piece features a raised bed with storage space under the mattress, which is covered by a fabric curtain.
"My objective was to develop a bed that was not only practical but also simple and atheistically attractive because most of the space-saving furniture in the current market is quite massive and focuses on functional features such as foldable or transformable furniture," she explained.
---
5.

Compact Bathroom Furniture
A Swedish collective Note Design Studio has created a collection of bathroom furniture and accessories for small living spaces. Manufactured by Korean brand Lagom Bath, the Note Collection includes minimalist accessories, cabinets, lamps, and hooks, created specifically for compact living spaces in Asian cities.

The collection is split into two ranges: Type 1 and Type 2, which complement each other but offer slightly different finishes and forms. Type 1 features plain green tiles, a natural ash cabinet, and a simple wall lamp with an arched stem, Type 2 includes mirrored cabinets, a pendant lamp, and two speckled beige tiles. Both include the same black semi-circular handles, black metal towel rail, toilet roll holder, and a shelf.
---
6. Objet élevé
These staircases were designed by the Dutch Design Studio, Mieke Meijer. "The construction, built from both standing and suspended parts, largely consists of open frames allowing the design's transparent character to be maintained," explained Meijer.

The staircase is based on the samba system of alternating steps to allow the staircase to rise at a steep angle, while still remaining comfortable to walk up and down. The lower half of the steps features wide pieces of oak integrated into the shelving and storage unit. These also serve as spaces for plants and ornaments and form part of a desk. Halfway up the steps, however, the design and purpose of the stairs change. The steps become smaller and form part of a suspended structure. It features a large flat piece of oak that acts as a shelf and display and space for a makeshift bookcase. They named it Objet élevé, and it works perfectly for small workplaces.
---
7. 3D Knitting Shift Chair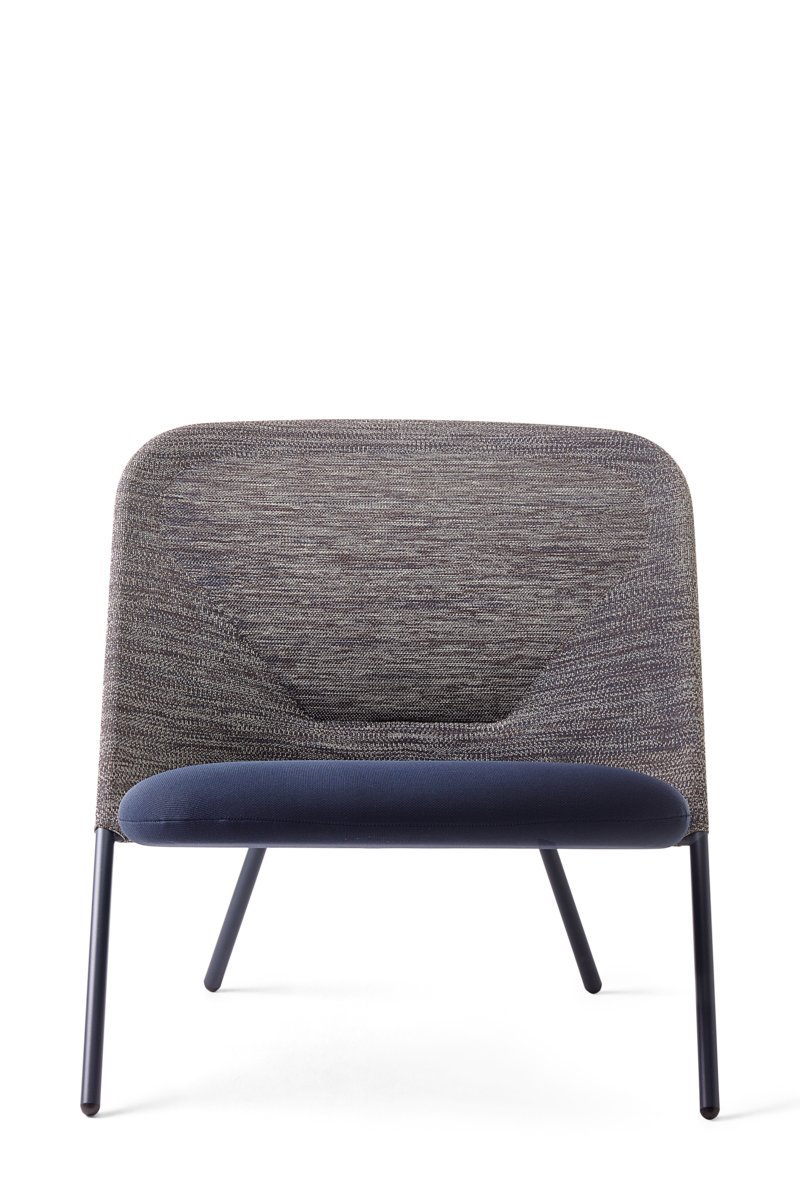 Jonas Forsman, a Swedish designer used 3D-knitting techniques to make his foldable Shift Chair for the Dutch brand 'Moooi' as comfortable as possible.
This chair is available as a dining chair and a wider, lower lounge chair, features a padded seat and a tensile fabric backrest. This attractive, comfortable folding chair was made with the intention to be useful for spaces that are getting smaller and more crowded as time passes.
---
8. Susaloon
Unfurling tables and benches from walls. Wooden furnishings have been integrated into the walls of this compact Madrid apartment by Elii Architects, allowing them to be folded away when they're not in use.
The Madrid-based studio was commissioned to renovate the apartment by a client named Susana, who inspired the project title Susaloon.
---
9. BedUp
Instead of folding against a wall, this space-saving bed by French furniture manufacturer Décadrages can be hoisted up to the ceiling to create more room in studio apartments.
BedUp's beech bed-frame can be raised up to the ceiling with the mattress and bedding still in place, using a mechanism that only requires one hand to operate. It can also be lowered to a height of your choosing, enabling the furniture to be left in place underneath. The bed provides an alternative to the Murphy bed, which was designed in the early 1900s and folds out from a wall to save space.
---
10. Cube 6
Cube 6 is a wooden box that turns into six stools by disassembling it. The designer Naho Matsuno showed the project in the Salone Satellite at the Milan furniture fair, and it is now being sold by Yanko Design.
The stools are made from birch plywood and maple and the cube is 350 x 350 x 350mm when slotted together.
---
11. As If From Nowhere Bookcase
As If From Nowhere is the name that Orla Reynolds decided to give this practical bookcase that has chairs and tables hidden in plain sight.
The white bookcase comprises independent units of two or four squares, each holding a chair or table in its sides. They easily pullout from the bookcase when needed and the two purple tables can be placed together to form a larger dining table.
This creation quickly became a multi-functional piece that can be adapted to any kind of space and provide you with comfort and practicality.
---
12. Shoe Box Apartment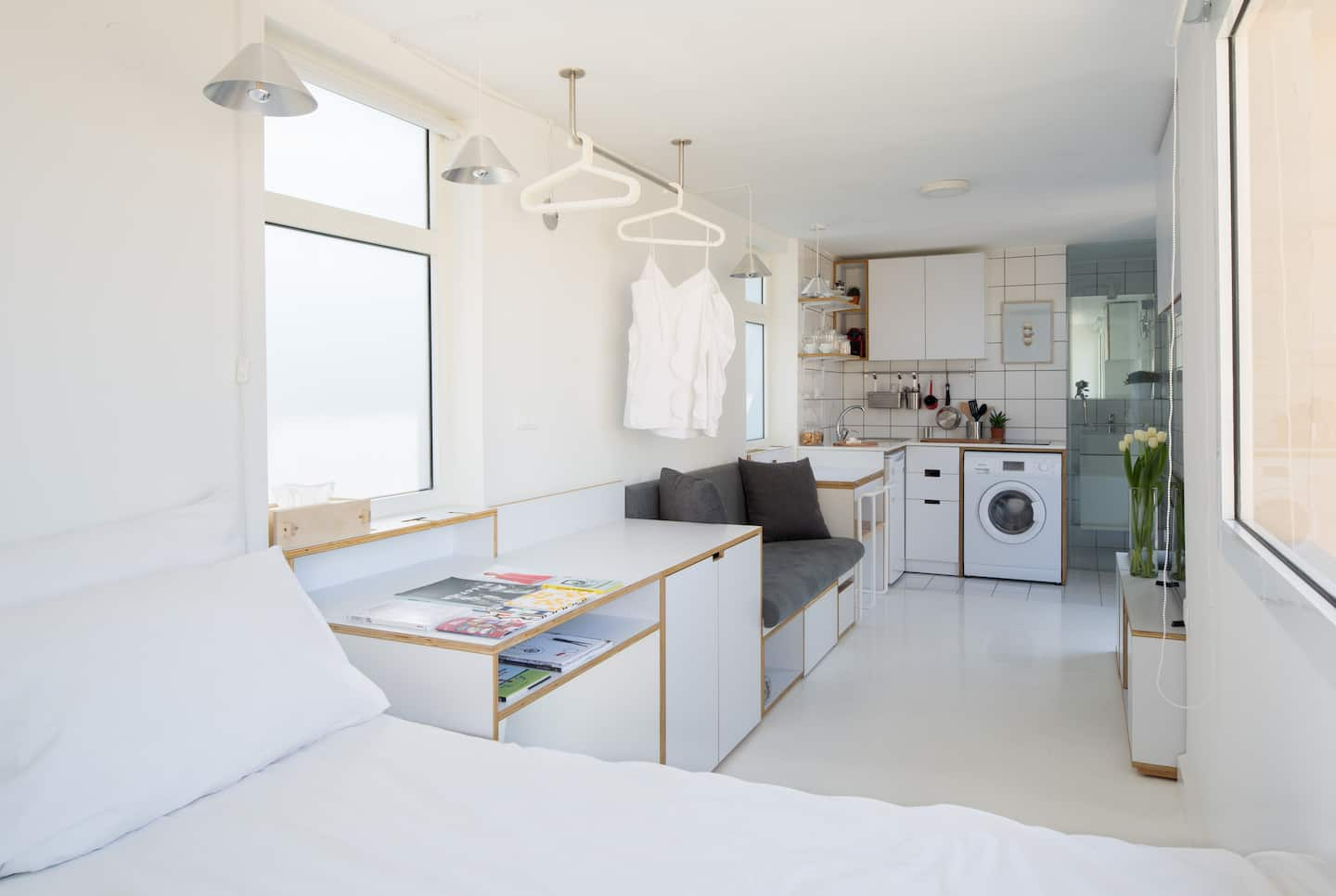 The Lebanese studio Eliemetni squeezed everything a guest could need into a micro-studio apartment on the roof of an old building in Beirut. The architecture, interior, and product design studio reconfigured the aptly named Shoe Box apartment for a client who rents it out to short-stay visitors on Airbnb.
With just 15-square-meters of floor space to work with, the team painted the room white and coated the floor in white epoxy to maximize the reflected light from large windows on either side.
Separated by a glass door, the wet room contains a showerhead, toilet, and a sink unit and is lit by a large frosted window. The flat also comes with access to a sizeable outdoor roof terrace with views out over the Beirut skyline, which can be seen through the large window at the foot of the bed. Impressive, right?
---
13. Tight Apartment
Amir Navon and Maayan Zusman have employed these techniques to save space in a small apartment in Tel Aviv.
According to the designers, the apartment, located in a Bauhaus building in one of the city's central boulevards, measures 70 square meters and has its own private garden – a rarity in Tel Aviv. By removing walls and reconfiguring the original layout, the designers have transformed the one-bedroom, one-bathroom apartment into a two-bedroom, two-bathroom apartment with compact external and internal kitchens, and a home office located within a glass box in the living room.
---
14. Cuboidal Concrete House
The Dutch office Studio MAKS has built a compact concrete house in an old industrial area of Deventer, the Netherlands, for a young couple on a tight budget.
On both levels, they provided storage in every room by either recessed shelving units or cupboards slotted into the walls. From the beginning, the client wanted a house with many rooms. So they agreed, but then convinced them to create large openings between the different spaces, to maintain a sense of spaciousness. To further maximize space, they also built seating into the wall that separates the entrance lobby from the living space.
---
15. Mews House Renovated
The architecture office Hutch Design has renovated and extended a mews house in north London, incorporating folding walls, mirrors, and hidden storage to make the most of the compact space. The studio, founded by Craig Hutchinson in 2017, updated the two-bedroom house situated off Broadway Market in Hackney for a professional couple with two young children.
As the original brick building is enclosed at the side and rear by other buildings and had low ceilings in the kitchen and living room, the house suffered from a lack of natural light.
The main living and dining area is overlooked by the open-plan kitchen and borders on a new multipurpose room that can be used as a home office or third bedroom if it is needed. The new room is contained in a compact side extension and can be connected to the living space by opening up a concertina partition in the upper section of the dividing wall.
---
16. Kammerspiel
Nils Holger Moormann created a space-saving living cube for micro-apartments. This unit contains sleeping, eating, and working areas. Kammerspiel, which Moorman describes as the largest piece of furniture he's ever constructed, is intended to provide people with a space-saving solution for their studio flats.
---
17. Flat 27A
A local architecture and design studio in Hong Kong, Design Eight Five Two (DEFT) was asked to overhaul the cramped layout of a 51-square-meter apartment named Flat 27A, located in the city's Kowloon Bay area.
Moveable furniture, concealed storage, and sliding partitions give the option to use the home as a single space or to divide it up into rooms. The architects decided to merge the bedrooms with the lounge to create one area and make it easier to furnish.
---
18. Hike Apartment
New York-based studio SABO Project was asked to reconfigure the 72-square-meter apartment in order to maximize space. It is located on the top floor of a 19th-century Haussmann-era building, and its walls were previously cluttered with dark nooks around the chimney flues that lead to apartments below.
Alex Delaunay, the founder of SABO Projects, removed all non-load-bearing walls to open up the space, which has a kitchen, bathroom, and bedroom on one side, a combined living and dining room on the other hand, and a mezzanine bedroom above for guests.
He named the project Hike, as a reference to its setting in the hilly neighborhood of Montmartre, on the seventh floor of a building without a lift.
---
Space-Saving Ideas For RV Travelers
19. RV Closet Organizer
Those traveling with families know all too well the unique frustration of trying to cram everyone's wardrobe into a limited RV closet space. And even if you are journeying solo or with a significant other, all those little pockets and shelves can serve to effectively double your clothing storage and help keep things neat and tidy. In other words, you and your partner will never get your underwear mixed up again. Investing in a good RV closet organizer will help a lot. They come in different shapes and have divisions for you to arrange everything as you please.
This wardrobe organizer comes with pockets on the sides that can be used to store your shoes and towels or some of your personal products.
---
20. Portable Nightstand
You have your cell phone, notebook, reading glasses, a book, and then suddenly you find yourself surrounded by a mess you did not even notice you started. At home, you might be able just to stuff it all in the nightstand and forget about it. But depending on the design of your RV, you may not have a convenient nightstand or the proper space to keep it clean.
That is part of the reason we love this portable caddy-style organizer. It does not only offer the possibility of having some extra room, but you can also simply pick it up and tote it along with you to the living room, or wherever you feel like going.
---
21. Toothbrush Holder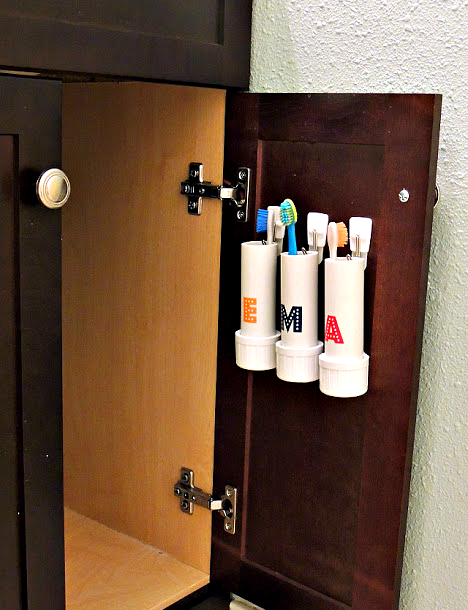 Toothbrush storage becomes so much more of a problem in a camper. Simply throwing your brush inside the bathroom cabinet with no protection is downright gross, and when was the last time you had a toothbrush that fit inside those little hanging wall holders they make? Plus, then they are exposed to the dust and germs out in the open air.
Stephanie of Crafting in the Rain came up with the perfect solution, which keeps your toothbrushes neatly stored and safe while still ensuring they are handy and ready to go. Plus, with the adorable personalized letters on each of these easy DIY PVC-pipe holders, even stubborn kids will feel a little bit more motivated to brush their teeth.
---
22. Extra Electrical Outlets
When you're camping, pretty much everything that takes up space should have not one, but two uses. Couple that with the fact that you can pretty much never have enough electrical outlets, and you get this storage solution hint: if you're going to have a desk lamp on board, make sure it's one that has an electrical outlet! That way, you can charge your electric goodies while you're using the light for whatever you're using it.
---
23. Over-The-Seat Caddies
If you're in a travel trailer rather than a motorhome, you spend a lot of time in your tow vehicle, and it can get cluttered just as quickly as your cabin can. That's especially true if you're traveling with kids, who have to bring along their whole playpen to endure the long driving hours of a typical camping road trip.
These backseat car organizers can help keep everything you and your family need within reach, without having it be spread all over the backseat itself. Even if you're not traveling with kids, it's an easy and affordable way to extend your RV's storage space, especially for items that you don't need every single day inside the coach itself.
---
24. RV Kitchen Storage
There are a few relatively simple RV kitchen storage hacks that will help your mobile food prep area stay culinary rather than cluttered. If the kitchen is the heart of any home, these storage systems may just grow your rig's core a few sizes larger in a good way.
Food storage containers are a great idea to keep all your food in place inside and out of the fridge. If you plan your meals ahead of time, you save a lot of work by not having to make them at mealtime. The best way to do this is by storing your meal preps in containers that help keep your food fresh and ready to go. And also, that gives you more free time to enjoy your trip.
---
25. Veggie Hammocks
When you're on the road, those carefully-arranged apples and bananas can quickly take to flying through the air if you forget to stow them away when you're ready to pick up camp and move on. All of this, without mentioning the fact that your beautiful bowl takes up space on your kitchen counter.
Our preferred solution to this potentially-sticky problem? A fruit hammock! Not only does it save you space, but it also helps your fruit last longer by providing gentle ventilation that won't bruise or crush. And yeah, it looks pretty neat, too.
---
26. Magnets
Using magnetized storage is one of our very favorite space-saving ideas, both in an RV or a sticks-and-bricks home. You can find all kinds of neat magnetic storage solutions, like this all-in-one paper towel and utensil organizer by Great Circle. Just make sure it's good and solid before you put, as they do in the photo, something as heavy as a full wine bottle into the caddy.
---
27. Under-Shelf Baskets
Do you find yourself a little short on space after getting creative with how you store things? Maybe you just need a little bit of extra room, which these easy-to-use, under-shelf baskets can provide in an instant. They're great for packing additional dry goods into your kitchen, but as the photos show, you can also use them in the bathroom or bedroom for clothes, towels, and any other thing that can come to your mind.
---
28. TOWEL RACK STORAGE
Your RV's bathroom space is really limited, but if you install some extra wiggle room you'll be able to give yourself a lot more extra room in your bathroom to store all your products and put the towels in a better-looking way.
---
29. FOOD STORAGE ACCESSORIES
If you've got the extra room on your RV's walls, you can make your quest for food storage accessories, like aluminum foil and cling wrap, even easier by mounting the rolls of aluminum foil and saran wrap on the wall. Crazy easy and useful, right? A great idea from Anna Moseley on her website called Ask Anna.
---
30. FOOD IN A BOTTLE
These days we are all trying to find better ways to take care of the planet and reusing bottles and product containers is a great way to do it, and you are also saving money while doing it. Old lemonade and milk jugs make great pourable containers for cereal or granola and also allow you to buy from the bulk bins, which is more cost-effective than boxes.
---
31. TOILET PAPER STORAGE
No one wants to be in the unfortunate position of running out of toilet paper at just the wrong time. But what are you supposed to do with all those extraneous rolls? Especially if you're traveling in a small camper with not a lot of basement or under-RV storage to put them in. And this website, Cool DIY Ideas, has a great solution: use an old magazine holder, the rolls fit perfectly inside, and it keeps them organized and away from getting dirty.
---
32. PLASTIC BAG STORAGE
From the trash can liners to makeshift shower caddies to tote to the campground bathhouse, there are not many plastic grocery bags can't do, aside from being easy to store, it seems. Enter this incredible idea from Infarrantly Creative, which repurposes an old bleach wipe container into a handy, one-at-a-time plastic bag dispenser. Plus, it looks pretty.
---
33. VELCRO
Do you keep losing your tv remote? or your phone charger? Put a piece of Velcro on the side of your nightstand, or on the walls, to attach remotes, phone chargers, glasses box, pens, scissors, or anything else you could think of that you may need to have at hand.
---
Space-Saving Ideas For Tiny Houses
34. The Shipping Container House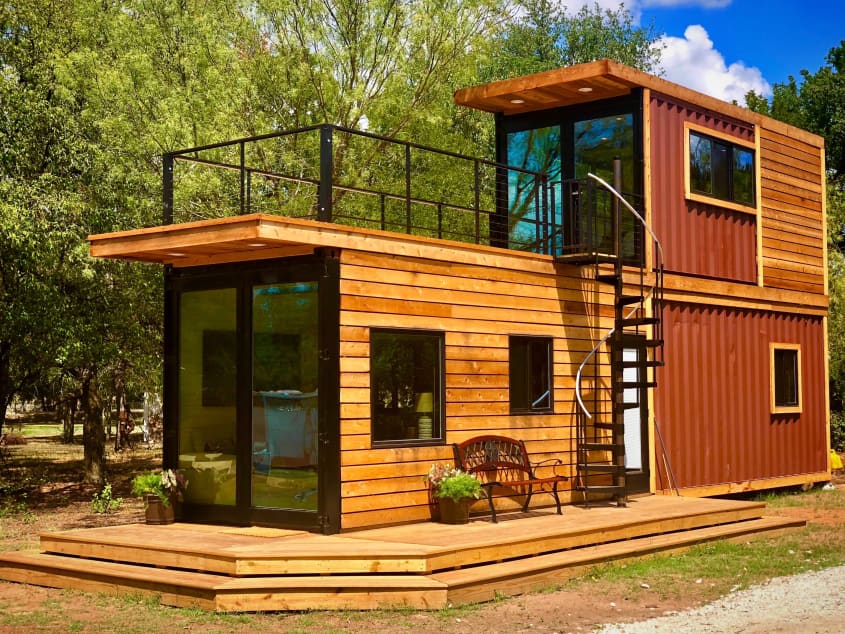 Moving on with our space-saving ideas list, here we have an idea for people who's a fan of tiny houses. The shipping container house is a great idea for anyone who wants to build a home from scratch because it's so rigid and doesn't have any niggly corners to contend with. Much like a box van camper conversion, you can put up a frame in no time and be cladding and insulating before you know it. But for those of you that would prefer to buy a ready-made shell with all of the rubbings attached, 'Container Conversion Design & Build' has the perfect solution.
---
35. The Roving House
Bright, airy, and full of funky-fresh ideas to make tiny space living a breeze, the Roving is perfect for small homeowners who want everything, including the kitchen sink in a house that utilizes every inch of space perfectly. At 154 square feet, the Roving is practically a mansion for anyone who has spent time living in a van and utilizes reclaimed wood and durable natural materials to make it eco-friendly too.
---
36. The Tiny Living House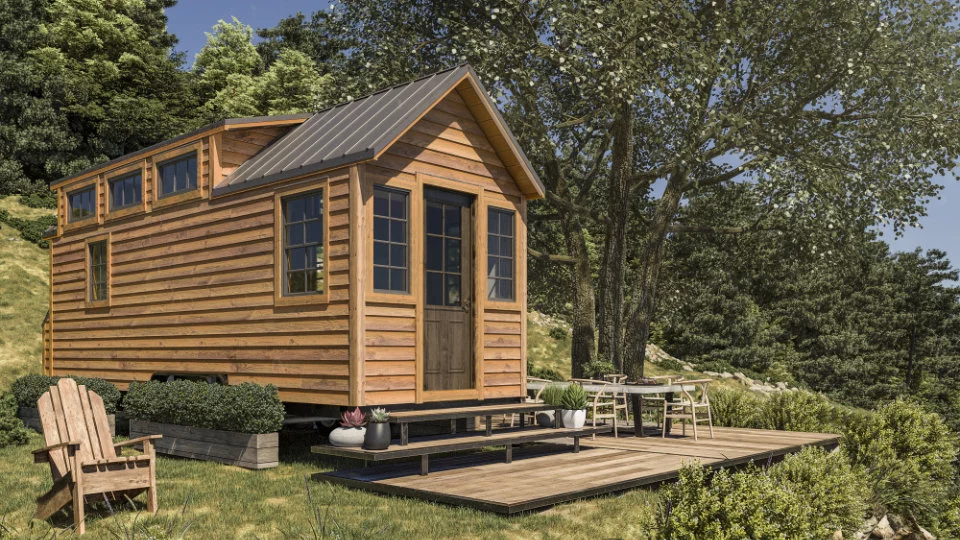 Tiny Home Builders make insanely nice affordable tiny homes, and the prices vary depending on the size of your build and whether you purchase a basic or standard shell. You can expect to part anything between $12K for a basic 12' around with a trailer, framing, and sheathing, Rain & Ice Shield wrap, and metal roofing; and $37K for a fully finished 24' house with doors and windows. We are going to be looking at this option today.
The 'Tiny Living' design is one of Tiny Home Builders' most popular designs, consisting of a spacious family room with a large vaulted ceiling to give create the impression of having more available space.
---
37. The Easy Dome House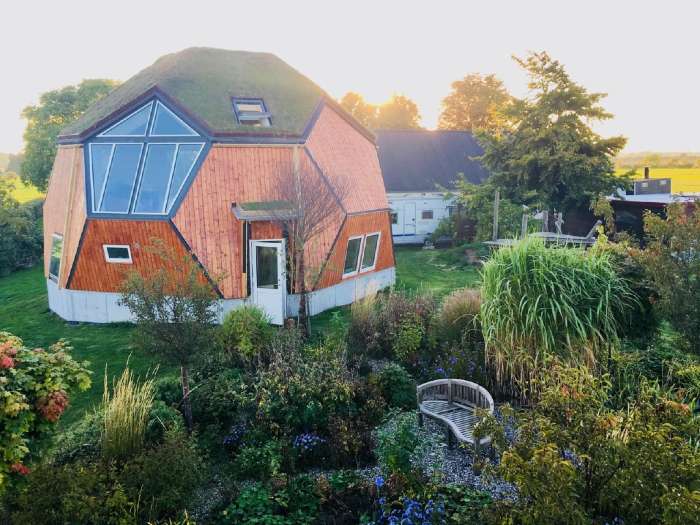 What happens if you cross a golf ball with a Death-Star escape pod? This must have been the question that the creators of the Easy Dome house asked themselves when they were planning these incredible-looking affordable tiny homes.
Easy Domes LTD design and deliver flat pack houses that you can put up with ease, and they arrive in containers that you could probably convert into an outdoor shower room! One small dome costs $20K approximately, which gives you around 31 square meters of space, one main door, and aluminum fittings. The great thing about these Dome houses, however, is that you can always expand and attach more domes on when you have the money, creating a small escape pod village for you and your family to live in and pretend you're in the deserts of Tatooine.
---
38. The Perfect Tiny Home Starter House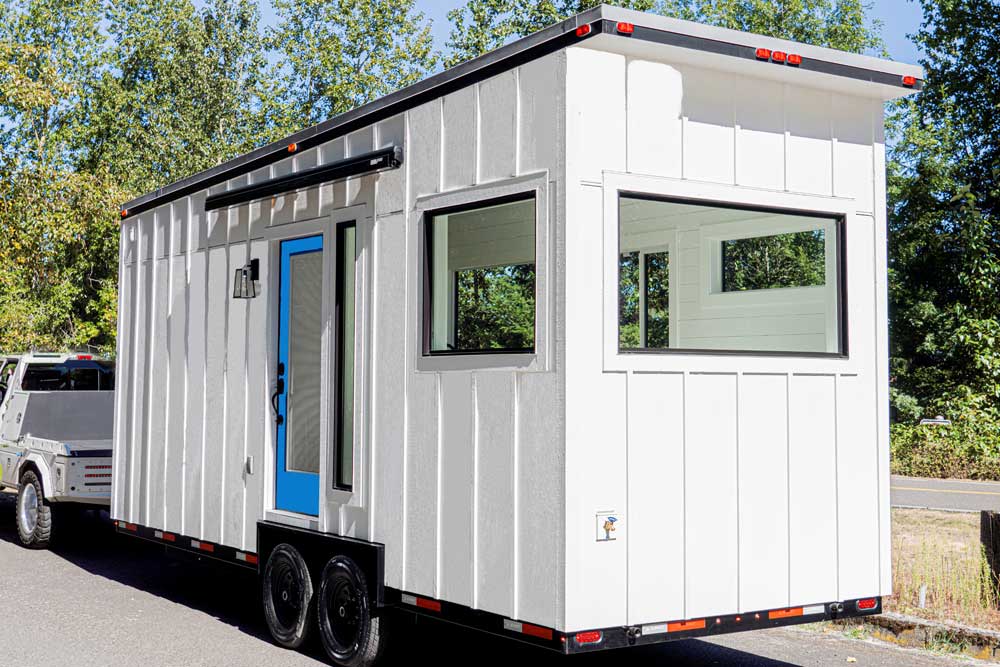 These DIY Tiny Home Shells from Tiny Heirloom are the perfect solution for anyone that wants to get a little bit crafty but doesn't want the responsibility of making sure the roof truss beams are 100% accurate.
Tiny Heirloom provides the trailer that the house sits on, as well as the all-important wall & roof framing and sheathing, and the first layer of weatherproofing. After that, you can take over and design your house exactly as you have always wanted it to look, using your inner decorator and crazy ideas to bring your home to life.
---
39. The Backcountry Tiny House
From beautiful forest valleys to mountain passes, tiny homes know no bounds. This next eco-house on our affordable tiny homes list takes inspiration from the colors of nature and lends itself well to beautiful country scenescapes in the very depths of the wild.
The Juniper from Backcountry Tiny Homes utilizes a plethora of creative storage solutions to make it one of the handiest tiny homes on the market. They're completely customizable too, so if you have specific needs or need to make them pet-friendly, then Backcountry will assist wherever possible.
---
Bedroom Space-Saving Ideas
40. Repurpose Unused Areas
Now for the following items on our space-saving ideas list, we'll be giving you space-saving ideas that you can implement in your bedroom. One example would be to utilize the unused area under a staircase, like this cozy bed set up. The custom-made platform bed fits snugly into the under-stair nook, and the design also incorporates under-bed and overbed storage that runs straight into the side of the stairs too.
---
41. Bunk Beds
Bunks under a sloping roof, like in this loft space, are a great solution where a central stairwell eats precious floor space. This particular example also incorporates a set of space-saving storage shelves in each bunk cubby. What is great about bunk beds is that they allow you to make full use of a room's vertical space and make better use of the floor space than a set of twin beds. Amazing, isn't it?
---
42. Bedroom Harbors
This bedroom harbors four beds but still looks to have masses of floor space. The centrally placed ladder becomes a design feature rather than a hindrance, and the clean, crisp lines of the bunks almost become a moment of contemporary architecture.
---
43. Hideaway Beds
The ultimate in luxury hideaway beds has got to be this elevating design. The foundation goes completely unseen after being placed in the ceiling space. Raising the room above the bed, rather than the bed above the room, is a very innovative way to maximize the space in your room.
---
44. Murphy Beds
We have explored hiding beds under the floor and up the ceiling. What is left now? The walls, of course! One big name that keeps popping up when looking for murphy beds, or space-saving multi-purpose furniture, is Resource Furniture. Though the concept of Murphy beds has been around for a while, the newer designs are sturdier, sleeker and pack in multiple features.
---
45. Storage Beds
Bed storage might not be the first solution you think of, but it can be a game-changer. Look for beds like lift-up ottomans, perfect for storing away extra bedding and cushions, or frames with plenty of drawers and cubby spaces.
---
More Space-Saving Ideas
46. Knives Within Knives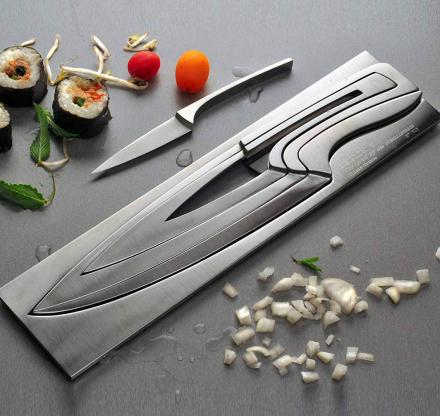 Aren't you tired of having all your knives laying around in a drawer and not being able to find the one you need quickly? Get these Knife-Within-A-Knife set and forget about that stress. It is practical and your kitchen will look more organized.
---
47. Hollow Chair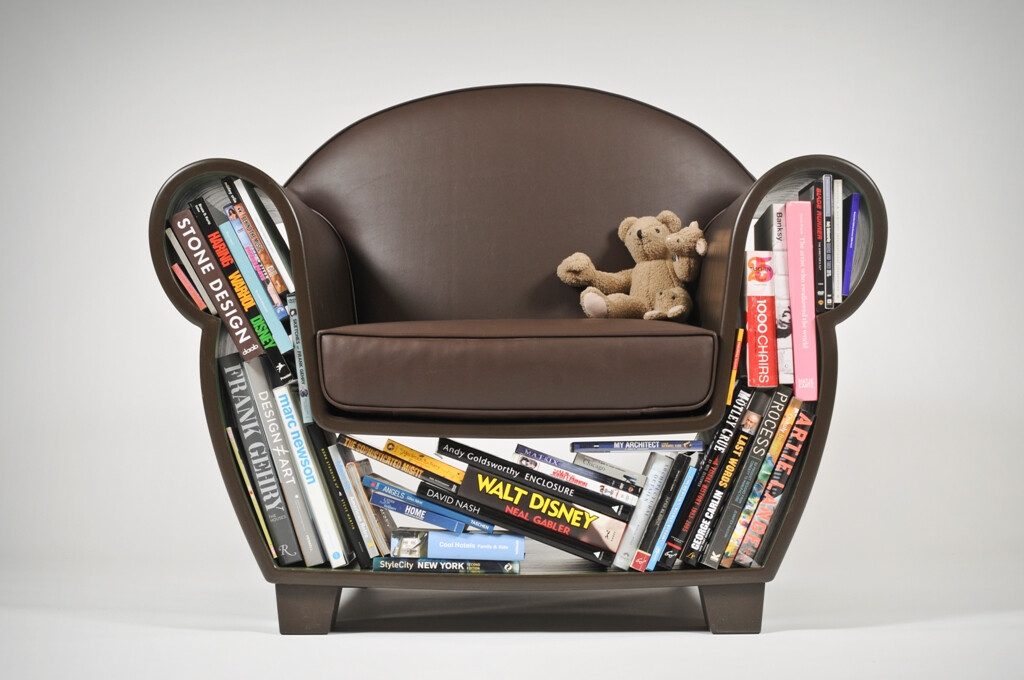 This idea was developed by Judson Beaumont from Straight Line Design, in his search for finding new ways to look at furniture. Besides the fact that is very decorating and will give a nice different touch to your living room, this chair can be very handful for storing almost anything that could cross your mind.
---
48. Open-And-Close Barbecue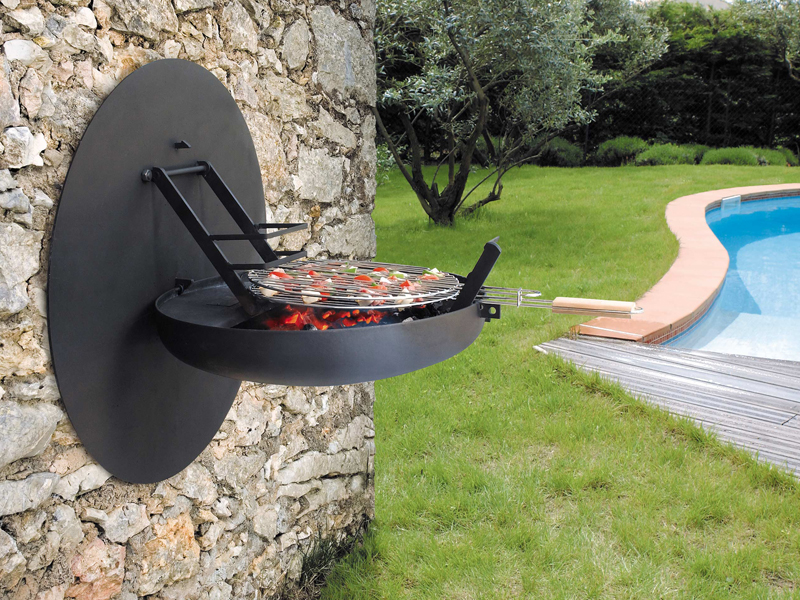 Who doesn't want to have a barbecue on a sunny Sunday with some friends a cold beer? This steel wall barbecue is a really good option for those who don't like the messy side of it. It doesn't take up much space and makes it so practical when making a barbecue. You open it, roast your patties, and close it. As simple as that. Sounds amazing, right?
---
49. Ironing Board Mirror
Ironing is one of the household chores that people like least to do, and even less when it is summer and you have to endure the high temperatures to which that torture instrument puts you under. Removing and re-storing the ironing board is not a favorite either, but with the Madame Est Servie by Aissa Logerot you will no longer have to do it anymore. That is very creative, don't you think?
---
50. Ping Pong Table Door
You want to have some sort of entertainment in your house but don't count on much space for that? This Ping Pong Table Door could be a great option for you. Made by Tobias Fränzel, this door can easily turn into a Ping Pong table and it is not going to take up much room around your house, after you are done it goes back to becoming a door and the rest is history.
DID YOU LOVE THIS LIST OF TOP 50 SPACE-SAVING IDEAS? IF SO, VISIT OUR CHANNEL ENDLESS AWESOME TO WATCH MORE VIDEOS LIKE THIS!
Contact us for more information.