---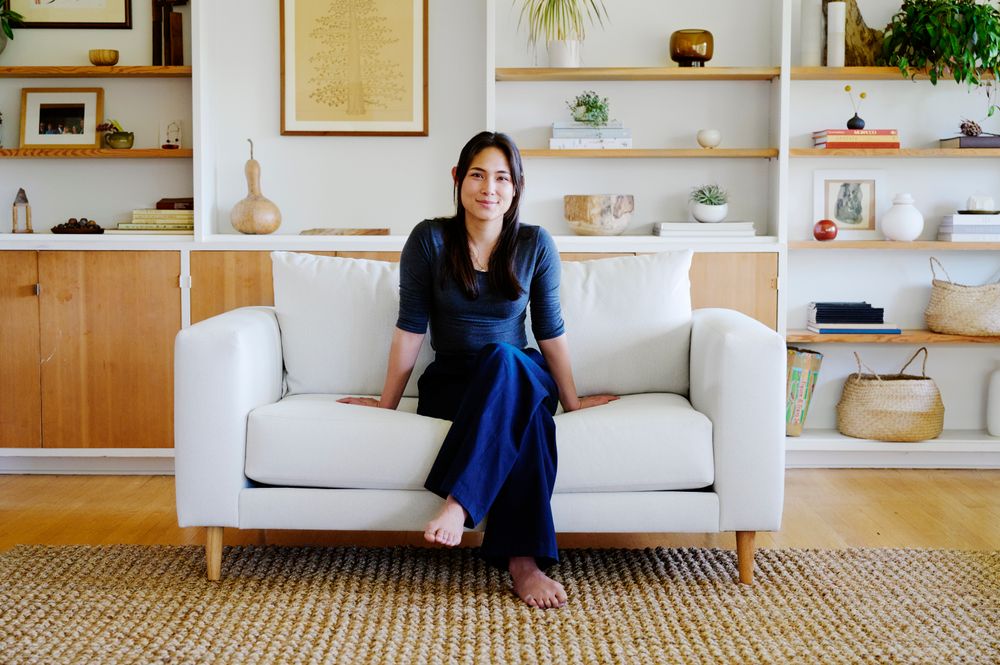 Phantila Phataraprasit is changing the furniture industry through their company, Sabai Furniture. Valuing sustainability and accessibility changes, not only the game of businesses but also the future of the world.
---
Q1. What made you start your business in the furniture industry?
We started Sabai after realizing two things – how much impact the furniture industry has on the environment and how difficult it is to purchase sustainable furniture as a modern consumer with a budget. I was trying to implement more and more sustainable practices in my everyday life but found that I couldn't do so easily when it came to furnishing my own space. At the same time, the furniture industry is one that both uses a tremendous amount of resources and chemicals, but also creates a huge amount of waste. These are products that we are living with so closely on a daily basis, so we wanted to create a solution that makes sustainable living accessible. 
Q2. What's the story behind your best furniture design?
For each one of our designs, we work with a different independent designer to keep things fresh while maintaining our core aesthetic. Our sofa is our best selling product, and was really developed, as all our products are, with the input of the designer, our team, and our community. We conducted a significant amount of polling to understand what people really use their sofas for and what they want out of them. I find this process to be incredibly fun and exciting – everyone, including myself, has assumptions and opinions around "the perfect" sofa, and it's really interesting to see how our community responds and whether they agree. For the sofa specifically, one example is with respect to the arms. We really thought that it would be best to design a sofa with thin arms to maximize seating space since the sofa is a size that is great for apartments. When we ran the poll on our Instagram account, however, we found that 89% of respondents actually preferred wide arms. 
Q3. How were you able to grow Sabai?
In my opinion, a few things that were key to our growth are – our support network, a focus on customer discovery, and clear brand positioning. The first really goes hand-in-hand with the following two, as we received a great deal of support from our network of mentors and advisors, who encouraged us to do as much customer research as possible and to use insights from that work to guide our brand's positioning and messaging. By focusing on understanding our customers, who they are and what they care about, we set ourselves up to grow more organically by ensuring that our products and messaging resonated with them.
Q4. What do you think is the greatest value your company has?
Our commitment and approach to sustainability. It's the driving force behind our decision-making, and is considered at each and every stage. I think this really differentiates us and resonates with our community, who knows we aren't retroactively thinking about our impact, but actively and genuinely building our company in a way that prioritizes limiting our impact as much as we can. This approach and the sharing of it with our community fosters trust, which is very valuable and builds loyalty within our community. 
Q5. How do you get design inspirations? Where do you get your design ideas? (Lumping these two Qs together!) 
As a company that values both sustainability and accessibility, we are faced with many design constraints, such as materials and costs. While these are challenging to balance or reconcile, constraints often provide inspiration or generate new ideas. Our customers and their needs are also a great source of inspiration. Ultimately, we want to make sure we are creating products that people will love and use, otherwise we would just be generating waste.  
Q6. What is your vision for Sabai?
Our vision for Sabai is to be the next generation trusted brand and platform for sustainable, accessible furniture and home goods. We aim to be a leader in sustainable living, consistently challenging both ourselves and our industry to do better and take responsibility for the impact our products have. For our customers, our goal is to make sustainable living accessible and allow people to furnish their homes with peace of mind. 
Q7. What was the most challenging part in managing your business?
One thing the past year has shown us is that challenges can really come from anywhere and anytime. I think one of the most challenging, but also fun parts of managing your own business is accepting this and planning for flexibility. 
Q8. How's having a female founder set Sabai apart?
I'm not sure if this is necessarily due to us being female founders, but I think what sets Sabai apart is our focus on building a sustainable company with respect to not only the environment, but also our business and employees. Our mindset with respect to growth is ambitious, while also ensuring that it sets us up for longer-term success. The same goes for our team – we are all passionate and hardworking, and want to make sure we are creating an environment that is collaborative and doesn't set people up to experience burnout. 
Q9. What's your top 3 marketing strategies in growing Sabai?
First, we plan to double down on sharing more about our mission, practices, and goals moving forward. We've come to learn that our community loves being a part of our journey, and with so much work going on behind the scenes, it only benefits everyone to share more. 
Second, we'd like to explore in-person experiences to connect with and hear from our customers in a different setting. We haven't been able to do that during the past two years, and see that as an exciting opportunity moving forward. 
Lastly, we'd like to work with more creatives on both content and product design. Designer partnerships are part of our DNA, and something we are excited to expand on further.
---
Contact us for more information.
---