Lovely cosplayers around the world have done excellent portrayals that would surely amaze us. Therefore, let us take a look at the Top 10 Fabulous Miss Kobayashi's Dragon Maid Cosplay.
---
1. KANNA KAMUI
Our spectacular cosplayer represented Kanna Kamui most creatively. Notably, Maiwa wore a lavender wig and three dark blue beads that are very significant for the character's appearance. Moreover, she also wore dark blue contact lenses and the usual attire of Kanna. In addition, she wore a white and pink blouse with a fur collar and a white skirt.
---
2. KOBAYASHI
Our cosplayer, Sadiq, has a splendid portrayal of our main protagonist, Kobayashi, from the anime series. Furthermore, she wore a bright red wig tied in a ponytail and saddle-brown contact lenses. Indeed, she has depicted the essential features of the attire like the white buttoned-up long sleeve blouse and the yellow necktie.
---
3. TOHRU
An amazing cosplayer has a notable portrayal for our cheerful character, Tohru! Indeed, Nezuko has manifested all the essential physical attributes for Tohru. In particular, she wore a long blonde wig with pinkish-orange salmon tips and orangish-red contact lenses. Furthermore, she wore a maid outfit and a large green dragon tail.
---
4. RIKO SAIKAWA
One of our favorite characters, Riko Saikawa has a representation by our fantastic cosplayer. Indeed, Yujeen has portrayed Riko perfectly. Furthermore, she wore a brown wavy wig, yellow round neck long sleeves with a bunny theme, and a pale orange skirt. Above all, she also wore a yellow daisy clip in her hair that distinguishes this character from others.
---
5. SHOUTA MAGATSUCHI
Our supporting character, Shouta Magatsuchi has a beautiful portrayal! Konkon has done a marvelous job! Furthermore, she wore a purple wig and eyes and long bangs. She also wore the character's usual attire of long blue-green sleeves, pants, and rubber shoes.
---
6. LUCOA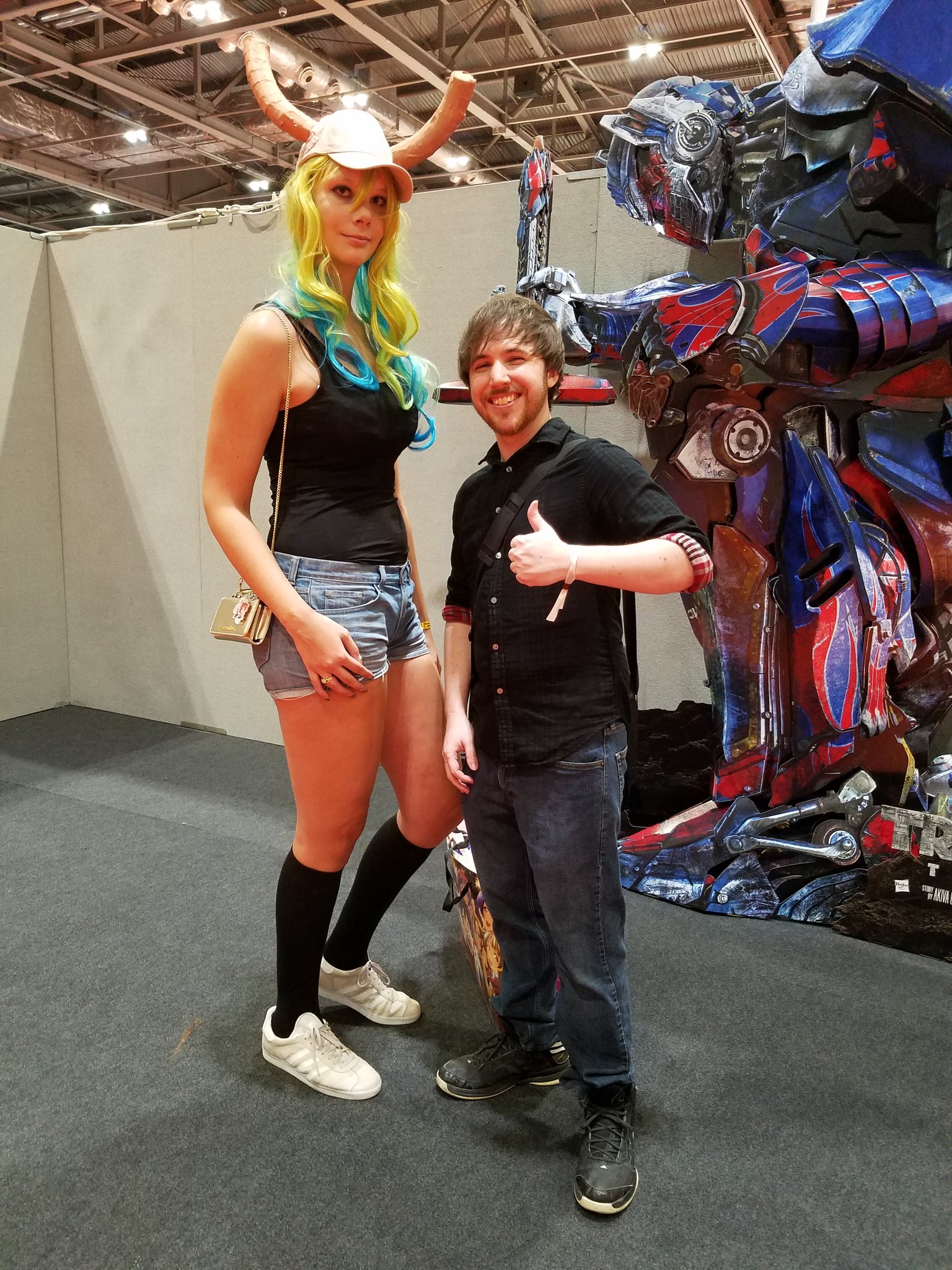 Indeed, our startling cosplayer has done a brilliant job in portraying Lucoa. Noble posted this picture with the fantastic cosplay of Lucoa. Our amazing cosplayer is tall, fair-skinned, and wore a golden wig with turquoise and green color tips. In addition to that, she wore horns, a pink cap, thigh-high black stockings that are the main physical attributes of our character.
---
7. FAFNIR
Meanwhile, Joe Chavez excellently recreated our gloomy-looking character, Fafnir, by giving us a delicate yet straightforward look. Moreover, he wore a long, black wig with bangs covering a part of his right eye and eyeglasses on the top of his nose. Undoubtedly, he manifested the main features of the character flawlessly.
---
8. MAKOTO TAKIYA
Sweetmochi has brought the character Makoto Takiya of our excellent anime series to life. Indeed, he manifested Makoto's physical attributes ultimately. Furthermore, he wore the office attire of a white polo shirt, a sky blue necktie with arctic blue stripes. He also wore a pair of glasses with swirls design on them and two gigantic center teeth.
---
9. ILULU
Our character, Ilulu has a great representation! Striderscribe posted this cosplay depicting the characters' physical attributes well. The cosplayer has done a great job recreating this character, mainly because of the blush pink wig with two horns on both sides of her head and the simple black attire.
---
10. ELMA
An exceptional cosplayer has a legendary portrayal of Elma from the popular anime series. However, Elma looks hard to represent because of the details needed to depict her. Therefore, Lacrimosa has done a fabulous job by wearing a violet wig and a brown horn protruding from her forehead and holding a brown trident. 
---
IF YOU LOVED THIS ARTICLE ON MISS KOBAYASHI'S DRAGON MAID COSPLAY, VISIT OUR CHANNEL ENDLESS AWESOME TO WATCH YOUR FAVORITE CHARACTERS COME TO LIFE!
Contact us for more information