The RV world reached new heights lately. Today we bring you some of the most jaw-dropping RV innovations of all time.
---
1. V

olkswagen ID Buzz
The concept of this van was not a proper camper van concept. Still, VW foreshadowed its electrified camper future with rearrangeable, floor rail-mounted furniture, flat-folding seats, a removable console table, swivel cab seating, and a wood floor.
By incorporating electric powertrain technology into this vehicle, they added unique advantages to motorhome designs. The switchover from gas to electric keeps green camping spaces cleaner and quieter.
The open interior space and flexibility previewed by the ID Buzz and the ability to run appliances and accessories off a single-vehicle battery pack make it even more desirable.
---
2. KZ Sonic X
Next is the Sonic X concept, KZ Recreational Vehicles and parent company Thor Industries managed to inject several fast-growing trends into a single trailer that looked ready for the road the day it debuted.
The 26-foot concept trailer had its eye on off-grid self-sufficiency, relying on 1,000 amp-hours of lithium batteries, 1,000 watts of solar, 379 liters of water, and water extraction and filtration system to live comfortably. Whether just outside city limits or hundreds of miles away from the nearest slab of concrete.
---
3. Furrion's Elysium Concept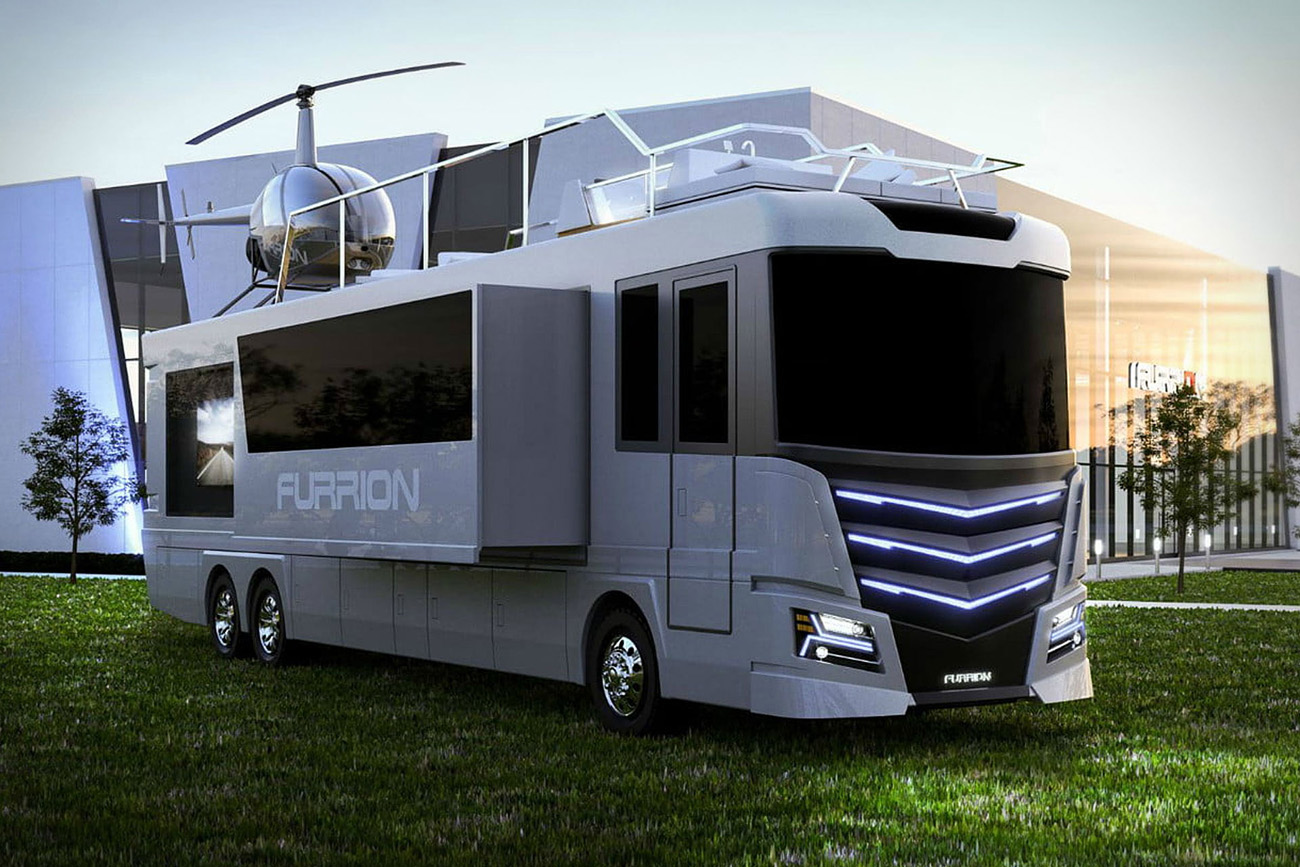 Helipads and foredeck hot tubs are amenities usually reserved for superyachts. Still, the good folks at luxury mobile component supplier Furrion brought them to the 45-foot Elysium motorhome concept that debuted at CES 2017.
Taking glamping to new heights, Furrion turned the Class A motorhome roof; usually a wasteland of air conditioners, skylights, and solar panels, into the Elysium's pièce de résistance. A yacht-like deck with a hot tub, sun pads, and a height-adjustable landing pad tailor-fit to a Robinson R22 helicopter were also part of the improvements.
---
4. The Caravisio
For too long, large camping trailers have failed to evolve aesthetics carried over from sometime around 1974, clunking behind the bumper as bulky, heavy, and downright ugly boxes of unsophistication.
In 2013, Knaus Tabbert disrupted that trailer status quo with the Caravisio concept, showing it is both possible and preferable to give the outdated travel trailer a complete 21st-century makeover.
Using solutions like a V-shaped front bed and covered wheels, Knaus created a sleeker, more aerodynamic design language that would feel at home behind the most luxurious ultra-premium SUV or sedan.
---
5. Hymer Vision Venture
Easily the camper van of 2019, the Hymer Vision Venture brought together off-grid exploratory capabilities and comfortable, elegant living better than any other vessel priced below a Dynamic Global 330 yacht.
Elevated features like the open-air deck, convertible bathroom, and staircase-accessed second story found a home on a rugged Mercedes Sprinter 4×4 base with improved ramp angles, underbody protection, and all-terrain tires.
Overlanding was one of the hottest trends to emerge in outdoor recreation this past decade, and we expect the popularity of those two trends, along with #vanlife, to result in more vans with VisionVenture's blend of ruggedized chassis/exterior and cozy, upmarket interior.
---
6. The sCarabane
The designers of the sCarabane trailer threw the entire kitchen sink in to provide a more comprehensive means of repurposing natural energy and resources. The folding caravan rotated to track the sun for more effective solar charging and water heating, made purposeful use of natural light, and even harnessed wind power.
A 26-foot, 5,500 pounds folding travel trailer and tiny lodge may not be the breakout camper product of the 2020s. Still, in pushing toward fully self-sufficient campers, manufacturers should look for smart, viable solutions beyond merely screwing solar panels to the roof.
The sCarabane provides a nice starting point, and people expect to see more camping vehicles incorporate features like solar tracking, multi-source energy harvesting, and rainwater collection. These sources will allow trailers to live off the grid more comfortably, for longer periods and impacting the environment less.
---
7. The Marco Polo
Before officially launching some of the world's most advanced wheeled smart homes with partner motorhome manufacturers, Mercedes-Benz previewed the more distant future with the 2018 Concept Marco Polo.
The midsize pop-up van showed how voice control could take smart motorhome convenience well beyond current-generation touchscreen and mobile device tech. Utter a command as simple as, "Hey Mercedes, I want to relax," and the van set itself up, popping the roof, leveling the suspension, and deploying the awning. For added style, it used adjustable glass tinting in place of stodgy, old window shades.
Mercedes already offers "Hey Mercedes" voice commands for driver cab features, so it should only be a matter of time before voice finds its way to the rear of camper vans and larger motorhomes. When it does, the vehicle vacation becomes even more relaxed, making camp setup and breakdown as easy as speaking a few words.
Smart home technology certainly won't be exclusive to Mercedes-based campers and will continue making its way into vans, large motorhomes, and trailers around the world.
DID YOU LOVE THIS LIST OF TOP 7 RV INNOVATIONS? IF SO, VISIT OUR CHANNEL ENDLESS AWESOME TO WATCH MORE VIDEOS LIKE THIS!
Contact us for more information.