One list isn't enough for the overloading cuteness of these dogs character so we will dive into the 2nd part. With that being said, here are Dog Cartoon Characters in real life part 2.
---
1. BLOODHOUND AND AIREDALE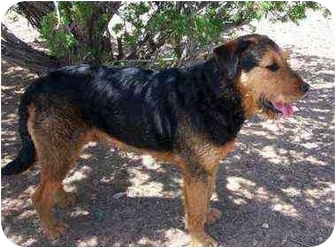 Remember that mischievous, wheezing laughter of this dog usually at the expense of cartoon villain Dick Dastardly. They never seemed to succeed in their nefarious schemes to win a drag race by cheating or to beat Yogi Bear and friends to a hidden treasure. He donned a World War I style aviator's cap and scarf. Muttley is a mixed breed dog. A combination of bloodhound, pointer, and Airedale. Quite a thing huh. He was originally voiced by Don Messick and what an amazing job he has done. But these guys could also have done the job. Of course not as good as the iconic job done by Don.  In 2016, when DC Comics began its rebirth initiative, Muttley was re-imagined by artists Mauricet and John Kalisz in a taller and more human-like form. Didn't impress me much as I prefer more cute ones. And they took it all away from him.  But surely, that mischievous, wheezing laughter is there to grab your attention.
---
2. LABRADOR
Everyone loves the TV show, Family Guy. And  Brian H. Griffin is a favorite of all with his impressive qualities, such as the ability to speak intelligently, drive a car, and walk bipedally. Also, he was shown, dating women. What a DOG. He is voiced by Seth MacFarlane who has admitted that Brian is his favorite of the Family Guy characters that he has played. Brian is a Labrador which is one of the most popular dog breeds in a number of countries in the world, particularly in the western world, and are best known for their obedience, loyalty, and playful composure. If you see a Brian in real life, you'll melt away with the sudden gush of charm and likeability that this dog carries.
---
3. BEAGLE
Do you dream about time traveling? Do you want to be rich? Well, seems like this next dog has it all. Mr. Peabody is a gifted dog who lives in a penthouse in New York City. Many of us can only dream about the life this dog has who tutors his son traveling throughout history using the WABAC (pronounced "way back"), a time machine. I wish I could also learn history by meeting iconic historical figures like Leonardo da Vinci, Albert Einstein, Mona Lisa, George Washington, Isaac Newton, Mahatma Gandhi, and baby Moses. Mr. Peabody is of beagle breed and a real-life encounter with him will be extremely pleasing as they are merry and fun-loving. But beware, they can be very stubborn too.
---
4. BLOODHOUND AND GOLDEN RETRIEVER
All people like dogs. They are sincere, loving, and protective. But there's this one dog which is more famous than most of the famous TV stars. And that's "Pluto". One of the most famous cartoon series of all time, The Mickey Mouse, would have been incomplete without him as he is portrayed as the "pet of Mickey mouse". This cartoon character, also called Pluto the Pup, was created in 1930 at Walt Disney Animation Studios. He is a very caring, loving, and friendly dog, according to the series. But, is it really the case in reality? Actually, "Pluto" shown in the cartoons is a mixed "bloodhound" and "Golden-retriever" breed of dogs. Do you really think you will like it if you ever come face to face with him? Well, look at the picture and think again! 
---
5. POMERANIAN
All the characters designed by creators are mostly shaped so that they look cute to the people. You look at a cartoon character in real life, only to see how different and "not so cute" they are in real life as in all of the cases shown. But, this might not be the case with the "Gidget" from "The secret life of pets". Gidget is telecasted as a female white Pomeranian dog in the series and is one of the main characters in the movie. If you take a look at it, it's cute, no doubt about it. But is it cuter than how it looks in real life? Well, if you come face to face with this character in the real world, there's no way you aren't going to fall in love with it.  
---
6. GREYHOUND
Santa's Little Helper is the pet greyhound of the Simpson family. In the American animated television series The Simpsons. The name of the dog is interestingly inspired by the Rolling Stones song "Mother's Little Helper." Although cartoon animals are often humanized like in the other dog cartoon characters in this video, Santa's Little Helper generally exhibits canine behavior. If you met him in real life, it could be a great experience as greyhound are very loving and loyal. But they are also trained hunters which makes them dangerous. Santa's Little Helper has an espresso-based drink named after him, at the award-winning restaurant and bars Bambara in Salt Lake City's Hotel Monaco, which is the most popular drink on their menu.
IF YOU LOVED THIS ARTICLE ON DOG CARTOON CHARACTERS IN REAL LIFE PART 2, VISIT OUR CHANNEL ENDLESS AWESOME TO WATCH YOUR FAVORITE CHARACTERS COME TO LIFE!
Contact us if you want to be added on this article.