Oggy and the Cockroaches is a French comedy animated television series. This employs silent comedy; they either do not speak or use unintelligible gestures. Hence, viewers enjoyed this. With that, here is the list of Oggy and the Cockroaches characters in real life.
---
1. BRITISH SHORTHAIR CUT
Blue with green eyes, Oggy is said to be a British Shorthair Cat. This breed can be different colors, including white, black, and blue. And just like Oggy, the British Shorthair Cat can be a pleasant companion and playful. These cats are generally chill and easy animals to get along with. 
---
2. VOLKSWAGEN BEETLE
You may have seen Oggy driving a specific car around town. This vehicle is an orange 1960-1970 Volkswagen Beetle. Impressively, the show accurately exhibited the car. And while Oggy has driven different cars in some episodes, it appears that he loved driving this car the most.
---
3. SPIDER WASP
Although cockroaches with orange heads and purple bodies do not exist, there is another type of insect with a similar description. The rusty spider wasp has a reddish-orange body with blue or violet wings. These creatures devour giant insects by paralyzing them. Dee Dee is no match for the rusty spider wasp.
---
4. BATHUB RACES
Oggy has won more competitions than any character in the show. One game he unfortunately lost is called the Bathtub Race. Dee Dee won the battle. And although far from what has been portrayed in the show, actual bathtub races are as fun as they sound. Contestants construct boats using their materials and race against each other.
---
5. BANANA COCKROACH
Let us proceed with the next cockroach on our list. Unlike the other insects, Marky has more of an unbothered and calm personality. With a long grey body and green head, this character loves girls and reading books. His real-life equivalent, however, does not desire any of those. Instead, the Green Banana Cockroach prefers to consume fruits. And unlike Marky, these roaches mostly stay outdoors. Have you seen a green cockroach before? 
---
6. GROUND BEETLE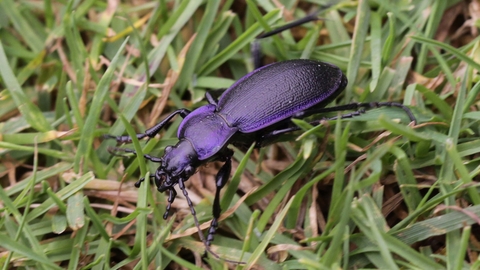 Lastly, we have the self-proclaimed leader of the group—Joey. Although the smallest, he is the most mischievous member of the trio. In some episodes, Joey had to execute his plans alone because his fellow roaches lacked faith in his methods. And while several purple insects crawl the Earth's surface, the violet ground beetle may be the most accurate creature. Known as active predators, these beetles are also violet and sneaky insects like Joey. What do you think?

IF YOU LOVED THIS ARTICLE ON OGGY AND THE COCKROACHES CHARACTERS IN REAL LIFE, VISIT OUR CHANNEL ENDLESS AWESOME TO WATCH YOUR FAVORITE CHARACTERS COME TO LIFE!
Contact us if you want to be added on this article.